Kendrick Perkins Weighs Trading Klay Thompson To The Philadelphia 76ers, New York Knicks Or Miami Heat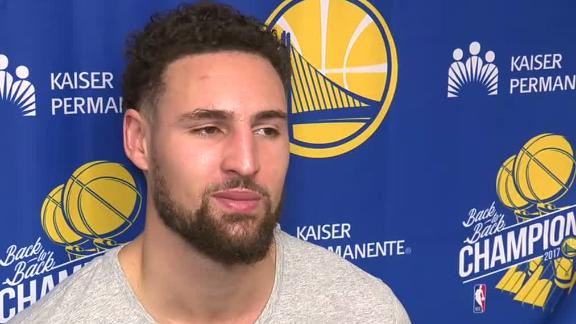 The Golden State Warriors have had a sluggish start this season, moving on with a 6-8 record. Although it's still early in the season, one reason for their lack of dominance is Klay Thompson's underwhelming level of play.
Thompson is known as the second best player on the Warriors and a key offensive force alongside Stephen Curry. Always has been a 20-point per game scorer, Thompson has regressed this season, managing only 13.8 points, 3.4 rebounds, and 1.9 assists per game on 40.1% shooting from the field.
Many are pointing fingers at the 33-year-old Warriors swingman, including former NBA center Kendrick Perkins. Disappointed with Thompson's performance, Perkins is now pondering if trading him to the New York Knicks in exchange for RJ Barrett, to the Philadelphia 76ers for Tobias Harris, or to the Miami Heat for their potential offer, could be beneficial for the Warriors.
"The 76ers. I mean, you look at Tobias Harris, he's on an expiring contract… You look at the New York Knicks, right? You look at RJ Barrett, would you consider doing that?" Perkins said.

"What the Miami Heat may have to offer, we don't know. Okay, the Miami Heat, Jimmy Butler, Bam [Adebayo] and a Klay Thompson with an Erik Spoelstra, again, when you're watching a guy like Klay Thompson — one of the best shooters to ever touch the damn basketball, to ever touch the damn — that is in a slump like he's in, it's more to it than just shooting the basketball. He's mentally not there."
Is it time for the Warriors to consider trading Klay? pic.twitter.com/g4drRZOyXx

— NBA on ESPN (@ESPNNBA) November 17, 2023