Dwyane Wade Says He Didn't Take LeBron's 'Not 6, Not 7' Titles Statement Seriously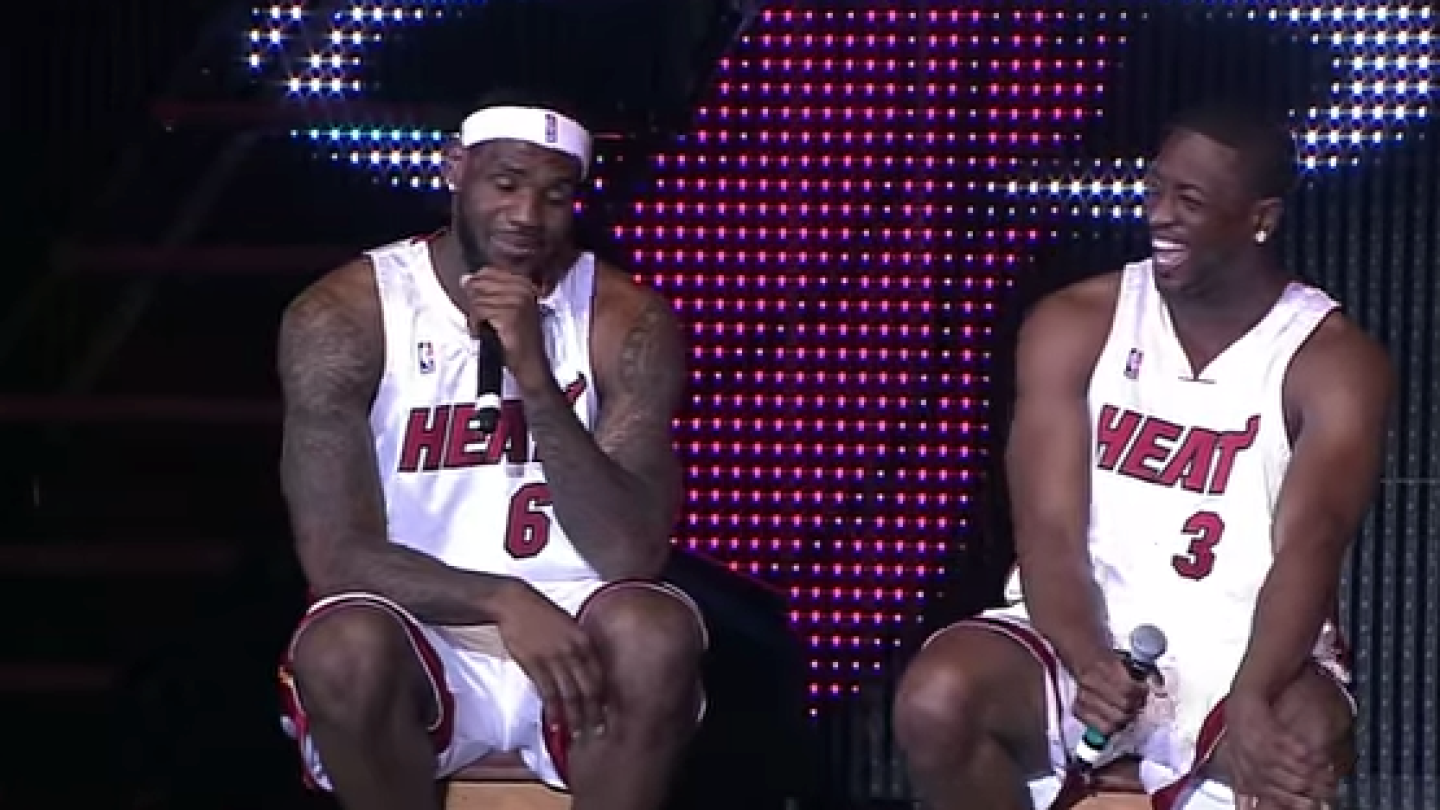 In 2010, LeBron James stunned the NBA with his televised declaration about leaving the Cleveland Cavaliers to join the Miami Heat alongside Dwyane Wade and Chris Bosh. It was a move that reshaped the league and had the whole community talking.
The hype surrounding the team became even more real when the Heat hosted a welcome party for the newly-formed Big 3. It was here that LeBron teasingly proclaimed his intention to bring home more than seven championships to Miami.
While LeBron and the Heat were still successful during their Big 3 era, the Heat never amounted to much more than a vulnerable villain team that went 2-2 in the NBA Finals, a far cry from LeBron's idea of being an eight-time champion.
In hindsight, many believe LeBron was likely joking to excite the crowd and generate hype. However, there are still some who hold his statement against him, believing he meant it seriously.
Wade, who was there and part of it all, was now asked by Shannon Sharpe about his reaction to LeBron's infamous speech. In response, Wade stated that he didn't take it seriously and suggested that they were just spicing up their speech for the crowd.
"Yeah, I didn't take it seriously," Wade said. "Did anyone out there take it serious? Like, come on, guys. We were having a parade.

"We were doing what we were doing in the crib talking with our homies…That's what he did. He added a little sauce and then that sauce became, 'Oh, we going to hold them to it.'"
. @DwyaneWade on @KingJames Saying "Not 1, Not 2, Not 3…" Championships in Miami

"Yeah, I didn't take it seriously. Did anyone out there take it serious? Like, come on, guys. We were having a parade… pic.twitter.com/DPgXyRa7GZ

— Club Shay Shay (@ClubShayShay) September 22, 2023