LeBron James Celebrates His 20 Year Anniversary Against The Team He Played His First NBA Game Ever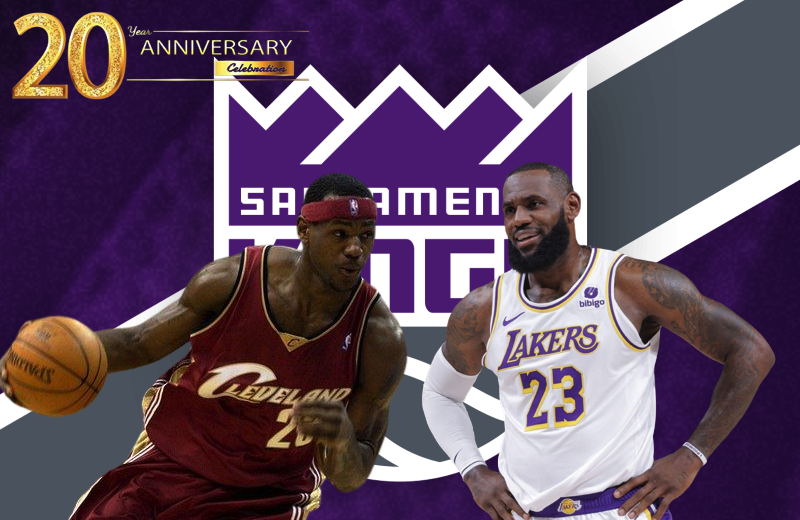 On October 29, 2003, LeBron James NBA superstar LeBron James made his NBA debut against the Sacramento Kings.
Nobody was sure how James, the most highly anticipated rookie ever, was going to handle the pressure in his first game for the Cleveland Cavaliers. 
Well, as we know today, he handled the pressure with ease, scoring 25 points with nine assists in 42 minutes.
And even though the Cavaliers lost, everyone was hyped, as they could see the making of a superstar from the second he stepped on the court.
Yesterday, on October 29, 2023, LeBron James celebrated his 20th NBA anniversary. Interestingly, he once again was facing the Sacramento Kings, and still was one of the best players on the court, even in year 20.
James finished with 27 points, 15 rebounds, and eight assists, while making 11 of his 19 attempts from the floor. Oh, and to finish the trip down memory lane, he also finished with a loss.
Before last night's game, the Kings had gifts for LeBron to celebrate the anniversary. Among these gifts, a bottle of wine from 2003, a pair of sneakers, and a framed photo of dunking in his first-ever NBA game.
Set up beside LeBron James' locker in Sacramento. A little gift for the 20th anniversary. pic.twitter.com/9wxxb7M5fX

— Dave McMenamin (@mcten) October 30, 2023