Andreas Obst Was 'Randomly Selected' For A Drug Test After Lighting Up Team USA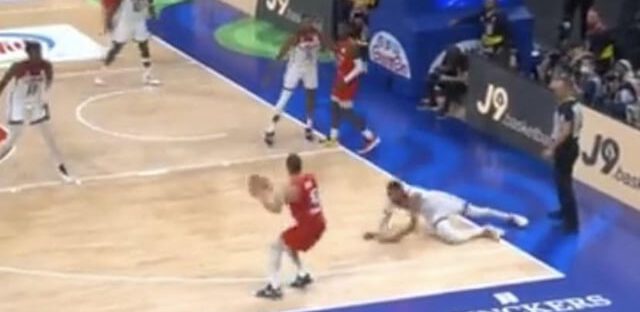 Basketball players sometimes are randomly selected for drug tests. This happens regularly and, in most cases, isn't worth reporting.
Sometimes the 'randomly selected' part doesn't seem to add up. Let's look at a couple of 'random cases' of these past few seasons, before adding the most recent one.
– In Alex Caruso's case, the 'random' drug test he had to go through before the start of the season was pretty funny. Coincidentally, the Lakers star was tested right after a photoshop of him as 'Hulk' went viral.
– Then, after throwing down the best dunk of his career, Danny Green also was hit with a 'random' drug test.
– Josh Richardson tweeting about watching Family Guy also resulted in a drug test.
– Bradley Beal – after having back-to-back 50-plus point games, Beal was drug tested by the league.
– Michael Carter-Williams. The Orlando Magic guard shared pictures of himself on Instagram in which he looked swole, which led to him getting drug tested.
– De'Aaron Fox. The Kings point guard was getting drug tested by the NBA after posting buff workout pictures last year.
– Donovan Mitchell. The Cavs All-Star was drug tested after scoring a career- and franchise high 71 points earlier this season.
– Damian Lillard. Lillard scored a career-high 71 points against the Houston Rockets. The All-Star made 22 of his 38 shots, including 13-22 shooting from 3, and 14-14 from the free throw line, while adding six rebounds and 6 assists in 37 minutes. After the game, guess what… surprise, surprise, Lillard, for the first time ever, was blood-draw drug-tested.
Now, while all of these examples are NBA related, 'not-so-randomly-selected' drug tests appear to also happen in FIBA basketball.
After Team Germany beat Team USA to advance to the World Cup Final yesterday, Andreas Obst, who lit up Team USA with 24 points and 6 assists, wasn't able to immediately celebrate with his team, because he had to get drug tested by FIBA doctors. Obst didn't care on bit.
"Best doping test of my life."
Bester Dopingtest meines Lebens

— Andreas Obst (@Fruit_96) September 8, 2023