NBA Twitter Ripped Dillon Brooks For Being Ejected Minutes Into His Rockets Debut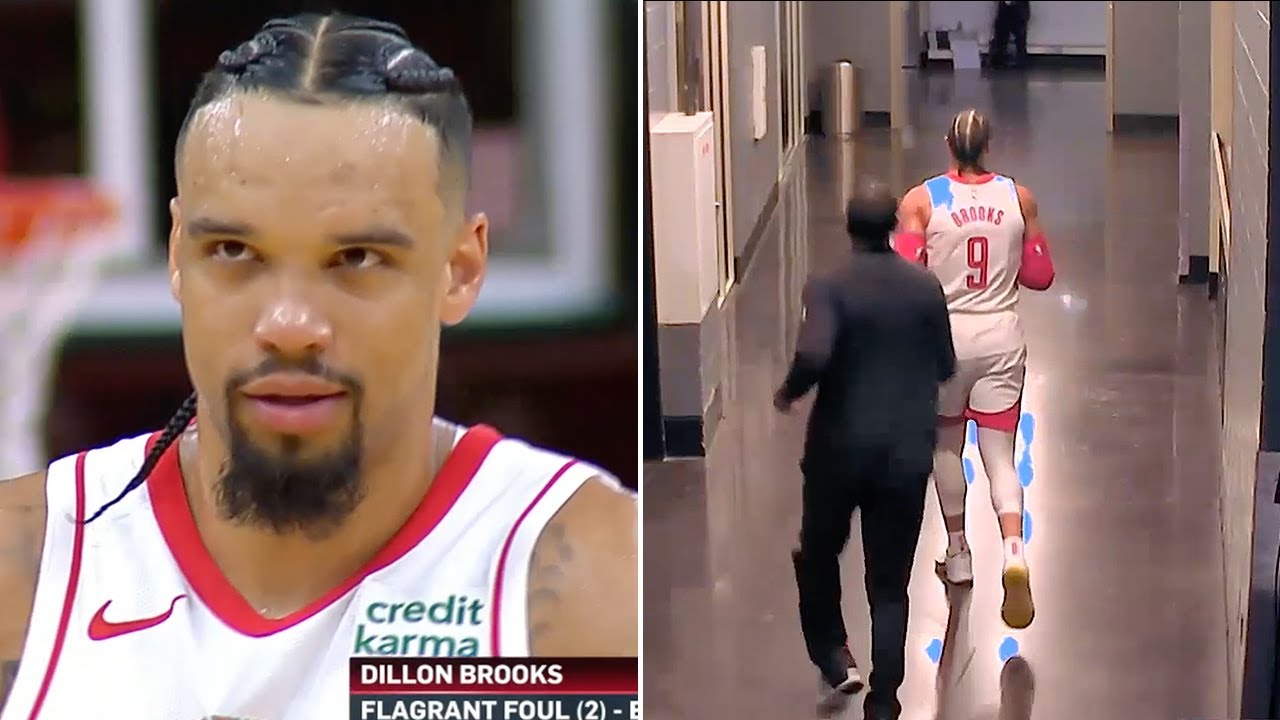 Dillon Brooks' Rockets debut was short-lived on Tuesday night, as he was ejected just five minutes into the game for a flagrant foul penalty two.
The incident occurred when Brooks was navigating a screen from Pacers big man Daniel Theis. Brooks' hand appeared to hit Theis in the groin area, and Theis immediately went down in pain.
The officials reviewed the play and upgraded Brooks' foul to a flagrant two, resulting in an automatic ejection.
Brooks is known for his physical style of play, and he has been ejected from games on several occasions in the past. This is also why NBA Twitter showed no mercy while ripping the Canadian.
why did you sting me, the frog asked the scorpion https://t.co/QJpv5pZJxo

— Dan Devine (@YourManDevine) October 11, 2023
He's already starting with his foolery, and the season has not even started https://t.co/tyCDg3o5L1

— Amelia (@AmelsMely) October 11, 2023
With how fast he pulled his arm away that's definitely intentional https://t.co/nsv9wJxURz

— sam (@samlovesmilk) October 11, 2023
I'm not supporting the team this season. He's already on my nerves! https://t.co/JoJQs7Do1K

— Dani (@daniwil3) October 11, 2023
Dillon Brooks already in mid season form he gotta chill he know he got a reputation https://t.co/pytn1WPk99

— Winter ✨ (@hey_wiinter) October 11, 2023
Imagine paying Dillon Brooks millions of dollars https://t.co/4uBml70zhS

— Donnie Hazlewood (@Dn4sty) October 11, 2023
Honestly — you gotta hand it to him https://t.co/fYjYB5ASQs

— Esfandiar Baraheni (@JustEsBaraheni) October 11, 2023
Dude, the preseason isn't even 5 minutes old. https://t.co/PECMvri2J6

— Sam (@samuel101ts) October 11, 2023
You have to be an all time clown to get kicked out of a preseason. https://t.co/VRqzY5xlKv

— Josh Gitt (@joshgitt1214) October 11, 2023
LMAO he really the Lance Stephenson of this era https://t.co/zFQvVFZXNr

— sosa (@akaSosa13) October 11, 2023
Setting the tone for the season real early https://t.co/J6ujBifxOZ

— James (@jh__118) October 11, 2023
This dude is a clown. https://t.co/GDY0o3ORmc

— Jrue (@DrewEsarey) October 11, 2023