J.R. Smith Appoints Kyrie Irving As The Best Scorer He Has Ever Seen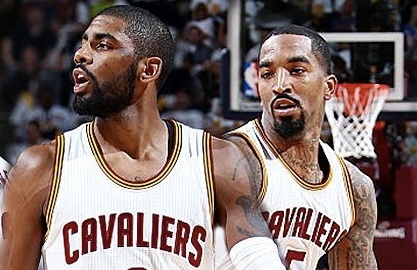 Former NBA shooting guard J.R. Smith has shared the court with legendary scorers, including Carmelo Anthony and LeBron James. However, for Smith, no one tops former Cleveland Cavaliers teammate Kyrie Irving, whom he considers the best scorer he's ever seen.
Irving, on his own, is a remarkable scorer. Throughout his NBA journey, he's averaged 23.4 points while maintaining a 47.2% field goal percentage. His performance during the 2016 NBA Finals further highlights his scoring prowess, as he averaged 27.1 points per game and nailed several clutch baskets, including the memorable go-ahead three-pointer in Game 7.
While some may say Irving's numbers still don't match up to the all-time great scorers, his scoring ability is still widely recognized. For Smith, it's not just about statistics. It's Irving's ability to do anything with the ball, his creativity, and his knack for getting the shot he wants make him the best scorer in Smith's eyes.
Kyrie's the best scorer I've ever seen in my life. He can shoot left-handed, right-handed. He can shoot midrange, 3's, spot-ups, off the dribble. He got the best handles we've ever seen. There's nobody creatively on the basketball floor that can get any shot that they want better than him.