Former NBA Employee Going Rogue Trying To Call Out Adam Silver Goes Terribly Wrong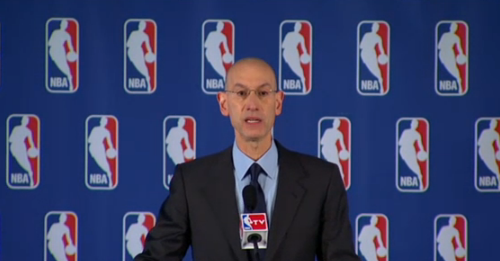 A former NBA employee went rogue on Monday and logged into the league's official Facebook account to call out commissioner Adam Silver over what he described as "terrible working conditions" and "embarrassingly low wages."
The alleged former employee posted a lengthy message on the NBA's Facebook page, alleging that he was routinely overworked and underpaid, while also saying that he was not given adequate health insurance or breaks, and that he was subjected to a hostile work environment.
"How do I log out of this? Haven't worked here in weeks. Anyway, the NBA overextends its social media employees greatly to the detriment of their health and social lives for a salary of less than $50k annually after taxes. I worked 14-hour shifts without breaks at times. Shoutout Adam Silver. We don't get health insurance until 90 days on the job! That's silly, isn't it? Glad I resigned, no need for a job to get in the way of your happiness. Donate to mental health causes"
The post was deleted from the NBA's Facebook page after about 20 minutes. The league has not yet commented on the allegations.
The former employee however was stupid enough to pitch his new company, also posting a phone number and email address. While we don't know if this is his legit contact details, it looks like he has since deleted his Facebook and Twitter account. There may be a lawsuit headed his way.
Oh and the funniest thing? It backfired completely. Nobody put blame on the NBA, with most saying that it is a good and competitive salary (which it is).