Paul George Names His Pick For Rookie Of The Year, And It's Not Victor Wembanyama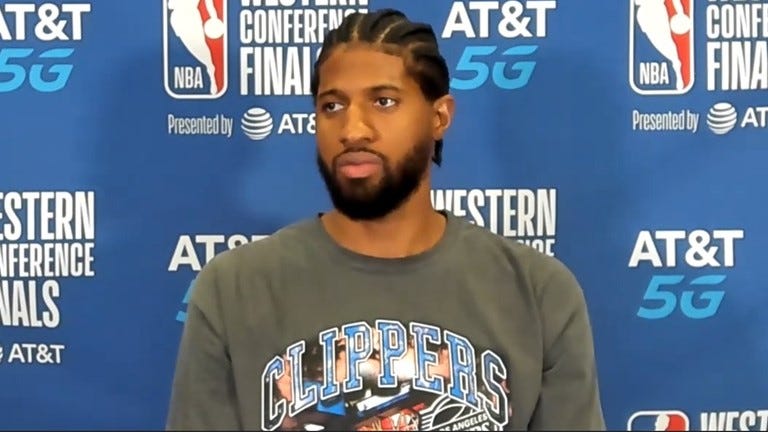 The excitement for the 2023-24 NBA season is ramping up, and deservedly so. There are many things to keep an eye on, not the least of which are up-and-comers such as Victor Wembanyama, Scoot Henderson and Brandon Miller.
As the NBA gears up for the new season, moments like these are ideal for making projections and forecasts for what the season might hold. In this context, Los Angeles Clippers superstar Paul George recently shared his thoughts on the Rookie of the Year race while hosting "Podcast P."
While many are eyeing Wembanyama as the Rookie of the Year, George went against the grain by selecting an alternative yet compelling candidate for the award.
"It's a lot of good talent," George said. "I mean it's going to come down to who's gonna play more. I'm going to go with Chet. I think [Chet] is gonna play a ton. They're gonna be a winning team. The way they play, it's gonna be fun to watch. So I think he's gonna get a lot of coverage. He plays both ends, he blocks shots, he's a little bit more polished, you know, further along, I think, than Wemby is."
Paul George picks Chet Holmgren to win Rookie of the Year

— NBACentral (@TheDunkCentral) August 31, 2023
Chet Holmgren was the second overall pick in the 2022 NBA draft, but didn't see any game time last season due to an injury incurred during a pro-am game in the summer. By NBA regulations, Holmgren retains his rookie status and is eligible for the Rookie of the Year award for the upcoming season.
Such case isn't a rare occurrence. Former Philadelphia 76ers point guard Ben Simmons clinched the Rookie of the Year award over Donovan Mitchell despite being drafted a year earlier. Similarly, former Los Angeles Clippers superstar Blake Griffin won the award over John Wall in the 2010-11 season, even though he too was drafted a year before.
There's a case to be made that Holmgren may have a leg up on the 2023 draftees given that he's already spent a year within the NBA setting. Nonetheless, Holmgren remains a strong contender for the Rookie of the Year award, alongside players like Wembanyama and Henderson.