David Stern Had A Problem With Allen Iverson's Rap Album: "I Remember Going Into The Office And He Was Reading My Lyrics"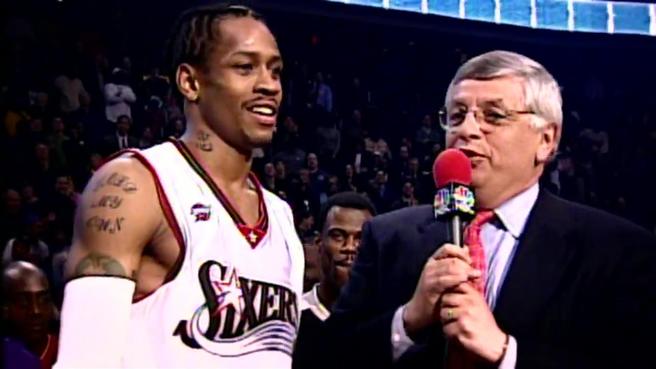 Former Philadelphia 76ers legend Allen Iverson is considered one of the most groundbreaking players in NBA history. His skills, unique style, and devastating crossover–to go with his 6'0" frame–put him in the same breath with some of the all-time greats. Iverson went toe-to-toe with many of them, and never backed down from a fight.
But not everyone in the NBA loved Iverson's persona and him being one of the flashiest and coolest guys to ever play in this league. The point guard has always been a thorn in Former Commissioner David Stern's side, and was one of the main reasons why the NBA implemented a dress code. The 11-time All-Star was known for arriving to post-game interviews or games he sat out in wearing his street clothes. His baggy, hip-hop-styled clothes were considered unprofessional for the league.
However, when Iverson tried out being a rapper, like so many other NBA stars of the 2000s, his debut single "40 Bars" almost landed him in deep trouble with Stern. Iverson was guest on Kevin Hart's 'Cold as Balls' and recalled a moment where he was going to Stern's office, with the Commissioner sitting there, reading the lyrics of his rap song off a piece of paper.
"It wasn't a great relationship. When I did that terrible rap album. When I did that bullsh*t, that's when I had a problem with David Stern. I remember going into the office and he was reading my lyrics Kev. David Stern was actually reading "40 Bars" off a piece of paper… I was trying not to laugh because I knew how serious it was. And the sh*t that I was saying, obviously you know. So to hear David Stern rapping it. It was crazy… It was not a good idea (the album), it looked so bad."