NBA Fans All Made The Same Joke After Mark Jackson's Departure From ESPN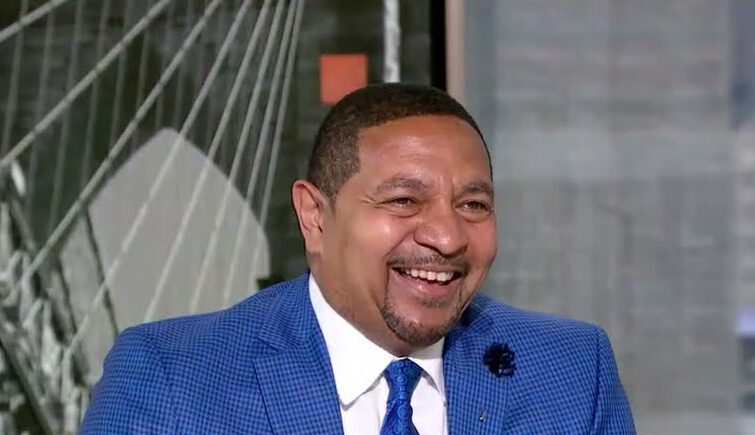 As we reported yesterday, ESPN has fired NBA analyst and color commentator Mark Jackson. The move comes as part of a larger round of layoffs at ESPN, which has been hit hard by declining ratings and revenue.
Jackson is known for his fiery personality, and his catch phrases. This has led to many fans disliking the former Warriors head coach.
One of his catch phrases was now used by NBA fans celebrating the news of his ESPN termination. They all made the same joke, using Jackson's "mama, there goes that man" catchphrase to the news of his exit.
Mama, there goes that man https://t.co/fyP3dS8qjB

— Oluwajomiloju (@JomiAdeniran) July 31, 2023
Momma, there goes that man (to the unemployment office) https://t.co/FC7lXKsYuw

— Robert Silverman (@BobSaietta) July 31, 2023
Momma… there goes that man https://t.co/bjVMBnkF0e

— Rajan Narang (@rdnarang) July 31, 2023
Mama, there goes that man https://t.co/JKmJGTDfkj

— Austin (@Amrmets15) July 31, 2023
(somberly) mama, there goes that man https://t.co/adpa5wcv5E

— Max Tani (@maxwelltani) July 31, 2023
Mama, there goes that man. https://t.co/zOkZ4zQPbO

— Alex (@AlexSheltman) July 31, 2023
Mama, there goes that man https://t.co/JKmJGTDfkj

— Austin (@Amrmets15) July 31, 2023
Momma, https://t.co/sPz4phoL22

— Anthony F. Irwin (@AnthonyIrwinLA) July 31, 2023
mama there goes that man https://t.co/Xif4rS7JiX

— Mr Giddington (@P_Funk36) July 31, 2023
Mama, there goes that man https://t.co/sfCRbBQrya

— Bam Adobobayo (@Bam_Adobobayo) July 31, 2023
Mama there goes that man https://t.co/gYZFFPWEHA

— Tavi O'Shih (@OivatootaviO) July 31, 2023
Mama, there goes that man (out the door) https://t.co/zAoyXZgEFn

— Matt Holt (@mattholt33) July 31, 2023