Larry Bird Actually Destroyed College Teammates Wearing Jeans, Just Like In Winning Time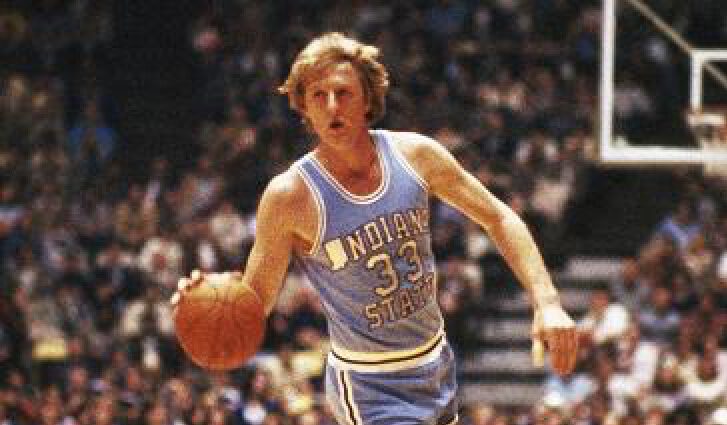 Together with Magic Johnson, Larry Bird was the dominant force in the NBA during the 1980s.
Bird and Johnson dominated the league and shared an intense rivalry that went on for a decade. In the 80s, Johnson led the Los Angeles Lakers dynasty to five championship runs, while he won three Finals MVPs. Meanwhile, Bird and the Boston Celtics grabbed three championships, with Bird taking two Finals MVPs.
Bird was one of the greatest basketball players and greatest shooters of all time and should find his place on every Top-10 of all time list.
One thing that separated Larry Bird from other fierce competitors in NBA history, was his renown savagery.
Unlike others, Bird didn't care about names or accolades and started trash-talking everyone in the league, not matter if rookie or MVP, from his first day in the NBA.
In the third episode of the second season of HBO's Winning Time, Larry Bird, before his time in the NBA, plays an intense scrimmage with loads of trash talking, while wearing blue jeans. It turns out, that this scene was actually based on true events.
Per FTW:
"That scene, in particular, I was very excited to shoot. I had read about that in my research about him going to Indiana State and Bill Hodges literally asking him if he wanted basketball shorts and he was like, no, I play better in this. His brother actually told Bill Hodges: He does play better in this outfit than in actual basketball clothes."
They got Larry Bird dropping 40 in the gym while wearing flannel shirt and jeans on Winning Time pic.twitter.com/NqqqbCzJU2

— Ahmed/The Ears/IG: BigBizTheGod (@big_business_) August 21, 2023