Isaiah Thomas Contends He Would've Been 2017 MVP If Not for Westbrook's Triple-Double Season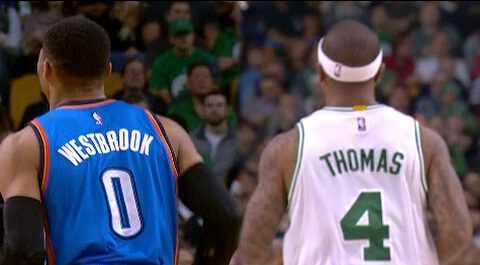 Despite finishing fifth in the 2016-17 MVP race, former Boston Celtics point guard Isaiah Thomas is convinced he could have clinched the MVP award had it not been for Russell Westbrook's legendary triple-double season.
Thomas put up impressive numbers that season, averaging 28.9 points, 2.7 rebounds and 5.9 assists per game while shooting 46.3% from the field. His performance helped lead the Celtics to the top seed in the Eastern Conference and the second-best record in the NBA.
On the other hand, Westbrook made history by joining Oscar Robertson as one of only two players to average a triple-double for an entire season. Westbrook's efforts carried the Oklahoma City Thunder to the sixth seed in the Western Conference.
While Thomas also had an exceptional season, he didn't even come close to winning the MVP award, falling behind not only Westbrook but also LeBron James, Kawhi Leonard and James Harden. He recently spoke about this 2016-17 MVP race on the "Gil's Arena" podcast.
"In that season, like, all respect to Westbrook too. If he didn't average a triple-double, I probably would have gotten MVP. He was the first player to average a triple-double since Oscar Robertson. My team was No. 2 in the league, I averaged 29 at 5'9," Thomas said. "No other small dude does it, except AI. You know what it was? I just figured it out. I knew next year I was going to average 34. Like, I knew if I didn't get injured, I was gonna do it."